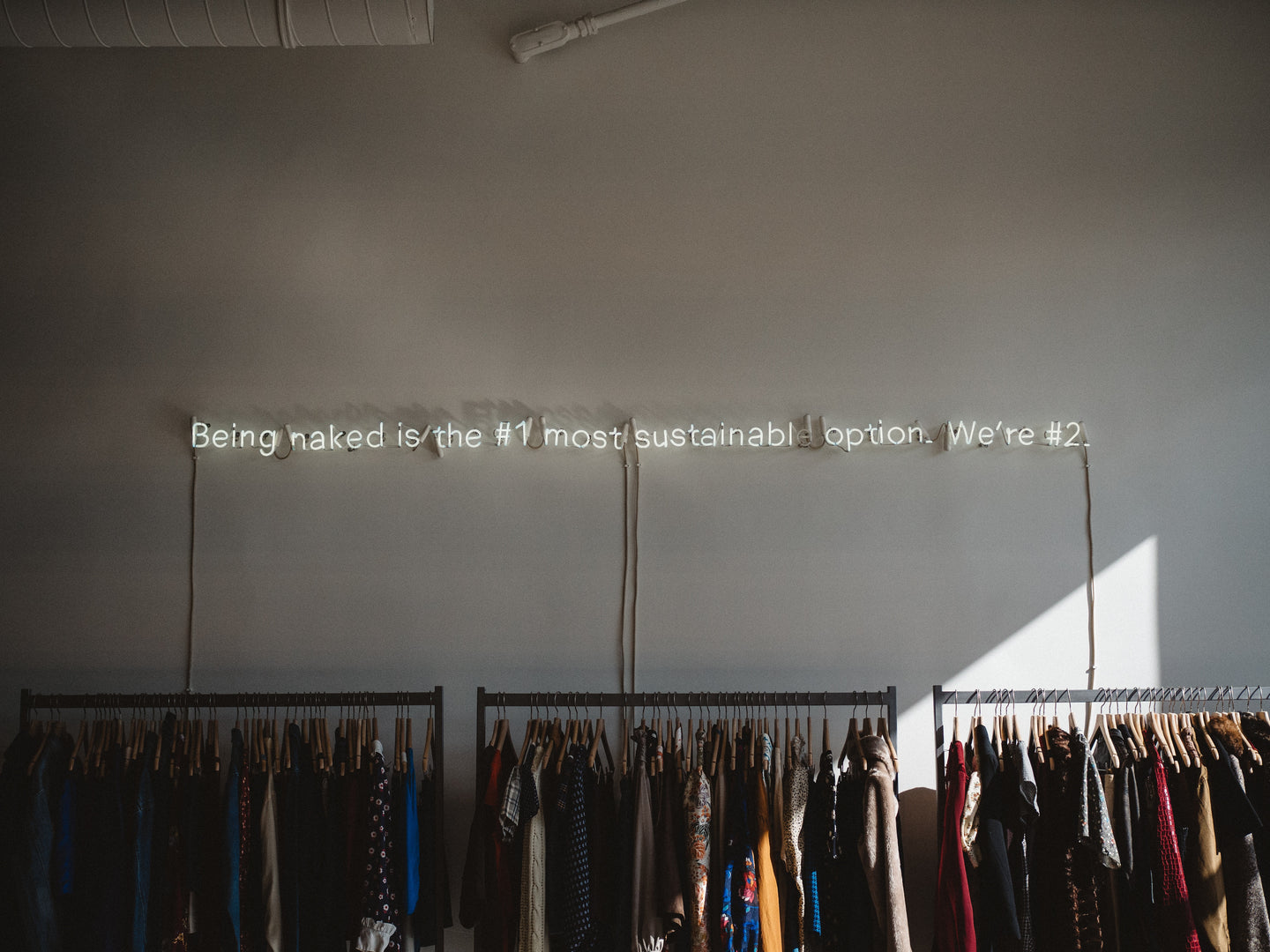 Sustainable Fashion - Passing Trend or Here to Stay?
Written by: Kelley Hudson
As the world changes and we all begin to work toward making our daily lives more sustainable, most of us forget that one of the biggest game-changers is actually in our closets. In fact, fashion and textile waste is one of the world's biggest polluters: only 1% of our old clothing is recycled into something new, according to the BBC. Yet we are still consuming fashion at increasing rates. We love new clothes and we'll happily spend money at the mall with each seasonal change.
So why aren't we blending this love for our wardrobes with our burgeoning love for the planet?
Some quick insights for you before you continue:
1. Fast Fashion
The type of fashion items with the most detrimental environmental impact are what the industry refers to as "Fast Fashion." Let's face it, we can't all afford Prada and Louis, but we aren't shy about donning the lookalikes. It's quick and it's cheap, but it's particularly hard on the planet. Quickly-produced and cheaply-made items that are similar to the expensive stuff we ogle on the runway have to be made somehow, and the only way we're getting those beautiful jeans and tweed blazers so cheaply is if they are produced in a country with fewer environmental regulations and constructed by a person working for less than a euro per hour.
2. Chemicals
That bright red skirt you just had to have was likely dyed with a harsh chemical. Unfortunately, that harsh chemical was disposed of in a clean water source. Even worse, the brighter the color the more unpleasant the dye. According to The Independent, waste from textile dyeing is the second largest polluter of clean water.
3. Cotton
Cotton is a staple in our wardrobes. I know that every day I wear at least one cotton garment, sometimes two or three! I am also a jean lover down to my core: I wouldn't be surprised if my soul was made from denim. But cotton is a huge issue for our planet and the people that live on it. That is, the very process of growing cotton is toxic. Consumers buy so many cotton garments that crop yield is becoming an issue. As a result, farmers are using highly toxic chemicals and genetically modified plants to make sure they can keep up with demand.
But there's hope.
Fashion designers and fashion lovers are both making conscious efforts to work toward a more sustainable future in the fashion industry. "Planet consciousness" is a trend that is gaining traction, as more designers are speaking out about our need to stop funding fast fashion.
So what can we do to get on-trend and secure a more sustainable fashion future?  
We can start by spending a little more on our new garments. The things that make our fashion fixes so costly for the planet reside in our desire to purchase items cheaply. I know, I don't want to spend €30 on a T-shirt either… but if we want to buy new and we want to be sustainable with our purchases, it only makes sense to splurge on a sustainably-made shirt that we can wear for a longer period of time.
Oftentimes, more sustainable garments are not only made with cleaner processes but they are also made with better quality. This helps us to purchase less and wear longer. Your staple black T-shirt isn't going to go out of style, so why not buy one that's better for the environment and keep it around for a few seasons? The same goes for your watch. Nordgreen provides a sustainable alternative to the trendy, low-cost watches that are so popular today. Not only are their watches produced with sustainable methods, but each of their watches feature interchangeable straps, providing a sustainable yet affordable option for frequently changing your wardrobe.
While paying a bit of a higher price for an item may seem daunting at the outset, the return, both in personal usage and for the planet, from these items will be well worth it.
There are also economically favorable alternatives for making sustainable fashion choices; namely, vintage shopping and thrifting. I have found a range of products at vintage and thrift stores--everything from sweaters to jeans to coats--and have picked up some seriously beautiful pieces. It's a little more work, but it pays off with a reduction in price and a boost for the planet. The best part is that when you're done with your items, you can then send them off to another resale shop, creating a sustainable fashion cycle.
Seeking out sustainable fashion is easier than you think. Want those pressed cotton pants? Check the tag to make sure they are made with organically produced cotton. Desperately need a brightly colored skirt? Ask how the textile was dyed before buying. If you're going to the grocery store and saying, "I only buy organic produce," then you should also be going to the mall with that same concept in mind for your wardrobe. By being considerate about what and how we buy our clothing, and stepping away from fast fashion items in particular, we can help pressure fashion businesses to become more sustainable as a whole.
Sustainable fashion is not a trend that is going away any time soon and it's our responsibility as fashion lovers to make sure what we wear reflects how much we care.