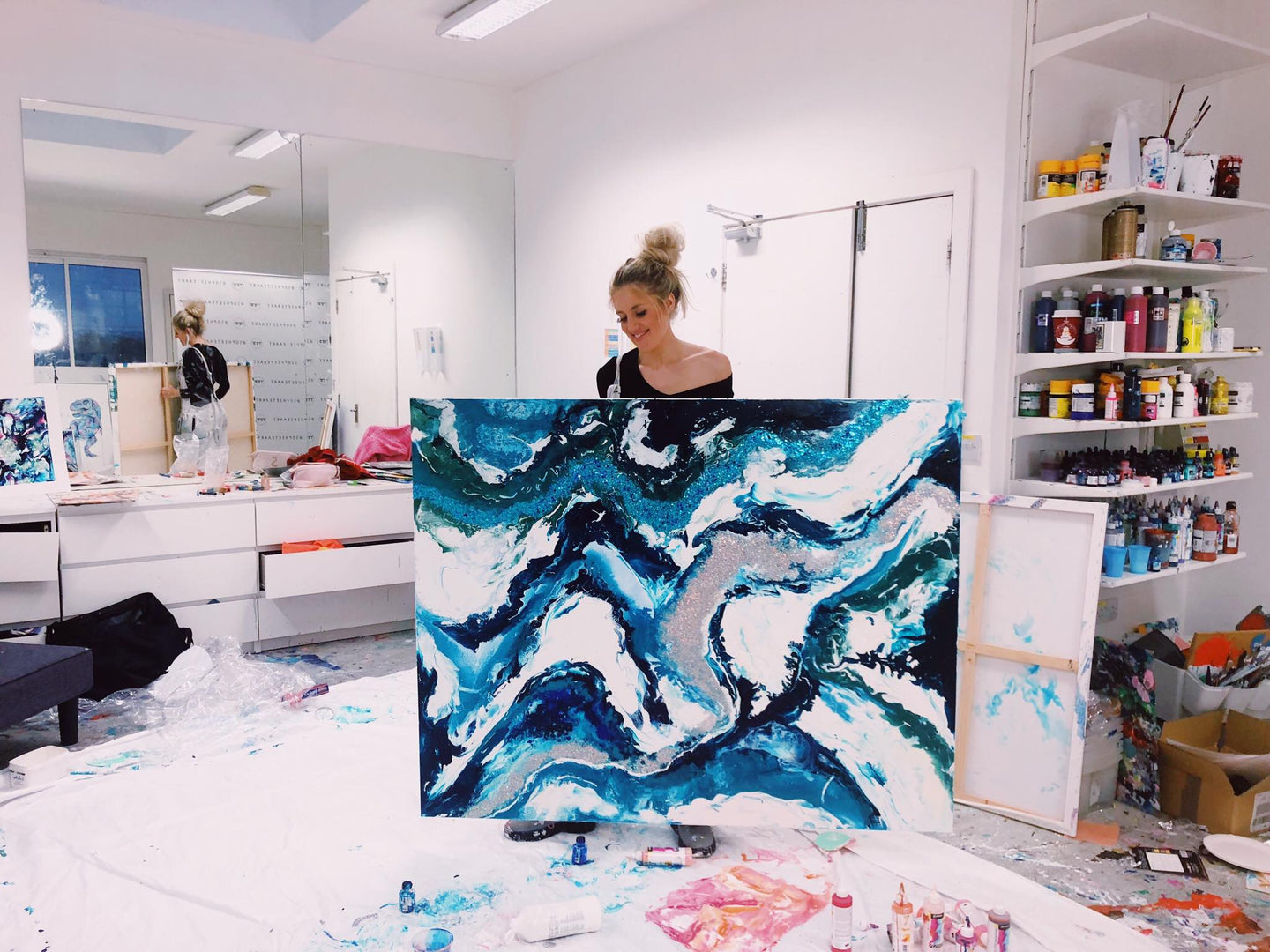 We are teaming up with Sophieteaart to give back with art
Sophieteaart has repeatedly shown that charity and creativity are a winning combination. She's putting together an exclusive coastline piece for Nordgreen and it could be all yours. You will give back to one of three sustainable causes at the same time, read more about them at the bottom.
About Sophieteaart:
Sophieteaart has the goal of making art that everyone can afford, while never compromising on quality.
She sells it on Instagram where she has a tight-knit relationship with her audience. Her artistic creativity makes her stand out, and so does her goal of donating £30k to charity this year. She gave back £15k last year and is out to outdo herself this year.
The perfect fit
Nordgreen's partnership with Sophie came about because of her clear-as-day talent as an up and coming artist. We just as importantly identify that we have common values because of her focus on sustainability and giving back.   
How it will work
The project is set up through Just Giving where a winner will be randomly selected to receive an exclusive Danish coastline abstract. The winner will then choose which of Nordgreen's three sustainable projects the money goes to.
Education in India, through Pratham UK to counter the world's highest illiteracy rate.
Water for Good in the Central African Republic with water pumps and wells handled by the locals.
Or, saving some of the rainforest in Latin America with Cool Earth
We hope to raise awareness for our sustainable causes, and to further our ability to give back to those who need it most. 
Sophie has a great connection with her Instagram following. To them, she's an open book, and this transparency is achieved on purpose. A true journey has ups and downs, this sound logical but honestly, it's far from most influencers who broadcast their lives online.
Sophie's success comes from her ability to set and meet lofty goals. It's what pushes her to work as hard as she does. In her words "just go for it". This attitude of never holding back, is what gives her art a unique edge.
Check out the Just Giving page here and read her interview with Nordgreen below:
What do you want people to get out of your art?
The thing I'd like people to get out of my art is for it to bring them some type of joy. All I wanted to do when I was a little girl is make people happy and I know that the best way that I can personally go about doing that is creating things on canvas or making things with my hands it's just the gift that I was given so I'm really motivated to just carry on, giving people joy, through what I do best.
Since you mostly market through Instagram – what's best about talking to your audience on this channel?
The most important thing I'd say to do on social media, and to connect with your audience is just be honest and open. Because life isn't nice all the time, I think it's important to show the ups and the downs and be true about your journey. Go at it fully, don't half-ass it, put your life on there.
How do you choose which causes to support?
The two criteria I have when choosing who to align myself with, first they have to align with my own values. The second part is they are in it for the long haul with me.
Why art for change?
So, the thing that made me want to be part of the art for change series was yes again definitely - it aligned with our own goals. In particular the charities that Nordgreen have affiliated themselves with. In education, in sustainability in health… is something that is needed and if I can make an impact in any way and help support an amazing brand that is doing great things in the world, it's a win for me.
We know that you have a goal to donate £30k to charity this year, why have you incorporated this value into your business at such an early stage in its lifecycle? And what do you hope to achieve out of it from a personal and business perspective?
So, the reason I set such a high charity goal for myself, this year at £30k is just because I always need to push myself and set myself ridiculous targets 'cause otherwise I just don't have the motivation to do anything. If I don't feel I have pressure on me then I don't do stuff – so it's important for me to set myself high targets.
Best thing about your job?
The thing I love most about being an artist is freedom of movement. I also feel like I live a life of purpose. I feel like I'll never be bored – because there's always things to get inspired by or do or see.
What's your art like?
The three words I would use to describe my art are spontaneous, expressive and loud.
How is giving back important for your art?
Giving back is so important to me because I remember when I started I said to myself "whenever you have a big enough voice, you need to do something with it" and help causes important to you. And that process of giving back for me is really a fulfilling one because, it kind of means I've done what I need to do artistically and career-wise and now I can take the time to help other people.
Why do you prioritize sustainability?
Sustainability, you know selfishly for me is so important because if we don't start making differences in the way we live our lives – how we look after and be mindful of our planet we will lose coastlines, we'll lose wildlife, we'll lose all this beautiful nature.
What do you want people to get out of your art?
I just want people to look at my art and it give them joy in some way. That's all I ever wanted to do since I was tiny just like – bring happiness to people's lives.