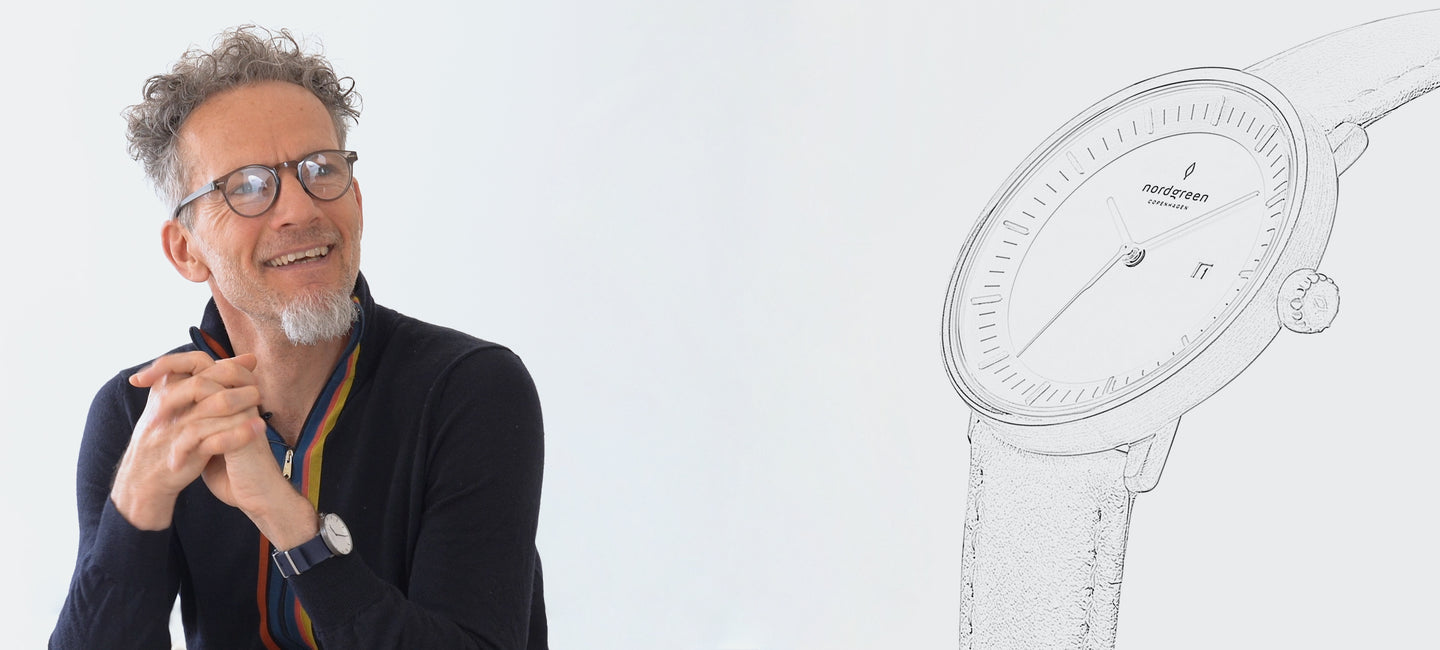 The history of Jakob Wagner
Jakob Wagner is one of the best in the business, a staple of international as well as Danish design. His immense talent has led to some truly iconic creations. Get to know the man behind many gorgeous aesthetics including Nordgreen's watches, and get introduced to some of his very best work.
As well as being passionate about Scandinavian minimalism, our values and Jakob's values align perfectly. Sustainability and giving back are our values as Danes and citizens of the world. Most people don't know about Denmark's sustainable efforts, but a study called Copenhagen European Green Capital, found that the city generated 31% of its electricity from wind energy.
"What has become really important to me is to work solely on something … on conscious projects, that means sustainability is a given." Jakob explains, reflectively.
Danish design facilitated by Danish mindset
As Nordgreen's chief designer, the watches are his creation. For every step of the process, he was inspired by the Danish mindset. Balance that is the foundation for happiness is the standard in Denmark.
"One of the important ways that the Danish mindset has influenced Danish design, I think is the concept of balance. Designing is complex there is a million different things to take into consideration and to balance everything out in a way that it becomes a simple gesture is the goal."
When designing the watches, he took a starting point in the city "It's the love for our city and the love for the way of life in Copenhagen that we actually want to express in the watch and share it with the rest of the world."
 The foundations
Jakob has a well-balanced background, with a rare combination that makes his style unique.
"I have a dual background in engineering and design, so you can say both machine and experience and I find the intersection between technology and human culture to be an interesting place to work."
After the engineering education, Jakob had a two year period as a guest student at the Danish Art Academy's Architect school. This paved the way for his time at the renowned Art Center in Switzerland.
 Paid his design dues
With designs for established International as well as Danish design brands, he possesses a wide array of experience as a true design veteran. He has now been running his own studio for over 25 years. He has many designs to be proud of.
Jakob singles out his design for Cappellini - the world's most prestigious furniture company, as his most challenging. With his creation of the branch table, he realized the dream of hundreds if not thousands of designers who want to work with them.
He has designed Bang and Olufsen headphones since 2011. Every element has a function when stripped down, together they form a complete entity that works as one. Jakob particularly beams with pride, explaining how he innovated with the anodized aluminium touch interface.
 A natural
The biggest inspiration for Jakob is nature. He sees his designs as evolution condensed to three weeks or months in product development, not three hundred thousand or three billion years.
 Next steps
For the continuation of the Nordgreen design ecosystem, Jakob has crafted the Nordgreen take on the chronograph, as well as a smaller native and a face-lifted Native. To be unveiled on Kickstarter in May - stay tuned!
Now you've had an in-depth introduction to Jakob, we have to ask:
Which of Jakob's Nordgreen watches is your favorite?