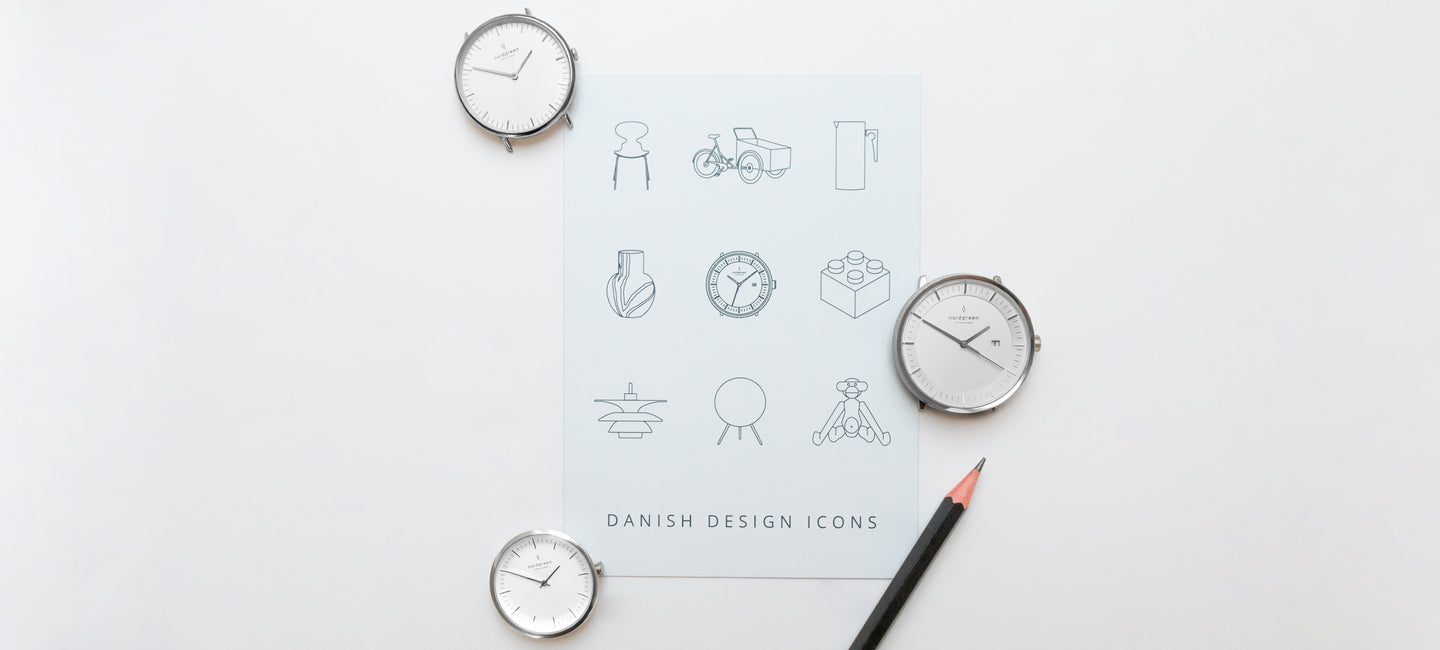 A look at the best of Danish design
Copenhagen is known for many things, and increasingly design aesthetic is at the forefront. You'll now have a chance to get a piece of Copenhagen in your packaging. Attached to your purchases you'll find a postcard which highlights some of the very best in Danish design. Enjoy it at no additional cost. Meet the nine outstanding designs chosen.
Ant chair
Arne Jacobsen initially designed this chair for the canteen at Novo Nordisk. This perfect expression of minimalism comes with a three or four legged chrome base. From its beginnings in the canteen, it now completes living and dining rooms across Denmark.
Christiania bike
This cargo bike began as a practical gift from Lars Engstrøm, the local blacksmith at the freetown of Christiania, to his girlfriend. It has since inspired a number of cargo bikes designed in Denmark. When Danes want to comfortably carry up to 100 KG with them, it can only be the Christiania bike.
Arne Jacobsen for Stelton water jug with ice clip
This one is an example of the functionality of Scandinavian design. The jug is designed to catch ice so that you get a cold drink with no ice cubes. Can be found in many Danish kitchens.
Fiora vase for Kähler
This design by Stine Goya will stimulate the senses with its use of multiple colors. It will complement any bouquet of flowers.
Nordgreen watches
Jakob Wagner came up with three minimalist models inspired by Copenhagen. Choose your watch, material and strap and express the best in Scandinavian design.
Lego
Lego is an example of a Danish family business gone global. This company that features toys that emphasize quality play for children, was started by Ole Kirk Christiansen in 1932. Danes start playing with Legos early in their development and come back to it later on in life. 
Artichoke lamp by Poul Henningsen
This lamp has 72 leaves, in 12 rows of 6 and is entirely glare free. This timeless design was created in 1958 for the Langelinie Pavilion in Copenhagen. This one is for the sophisticated, classy look.
Bang & Olufsen Beoplay A9
This speaker designed was by Øivind Alexander Slaatto for the Danish design giants, Bang & Olufsen. It is iconic because of how it has achieved the highest level of minimalism while delivering superb authentic sound. When Danes want style to go with sound quality, there's only one option.
Kay Bojesen's monkey
This design was first created in 1951 with the materials plantation teak and limba wood. It was recently released in a 10 cm model. Danes love it and mostly place them next to the candles in their window board.