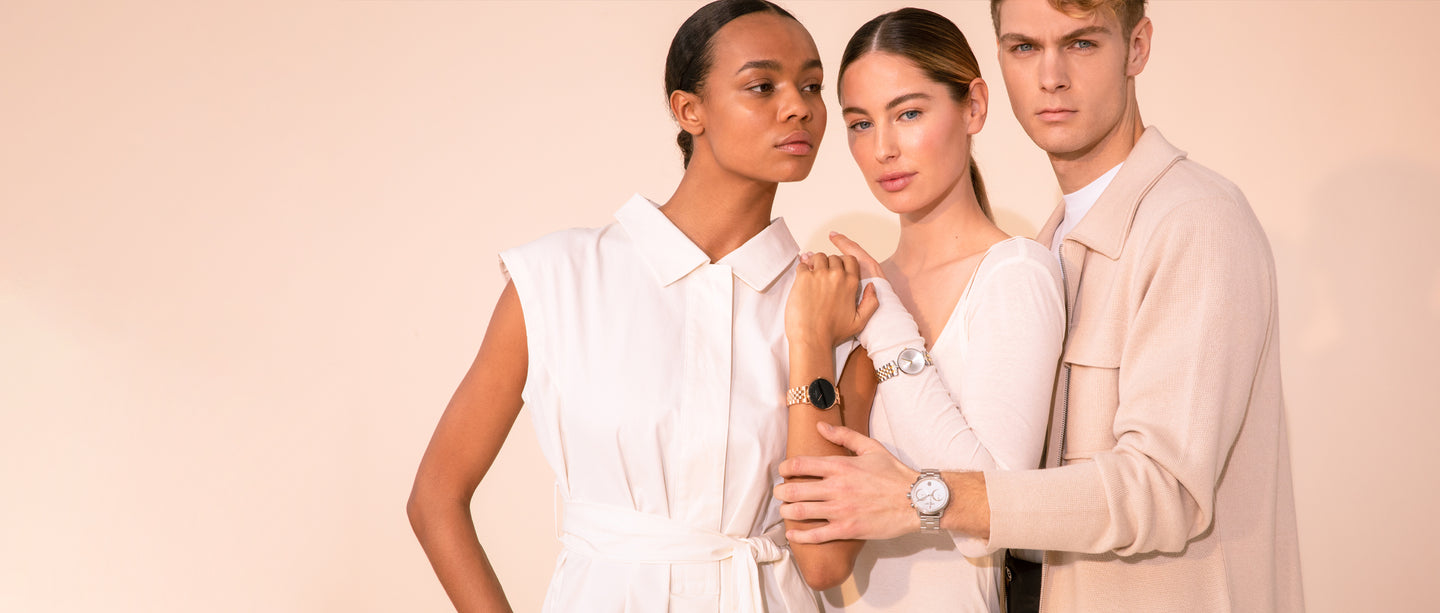 Spring/Summer 2021: Introducing Our Redefined Native Timepiece in 28mm and with Mother of Pearl Dial
For centuries spring has carried new energy, hope and meaning for societies and cultures across the globe. Some of the most emblematic cultural celebrations in the world revolve around the shift from often long, cold and dark winters to spring time, when the circle of life is set to start again.  The spring cherry blossom celebrations Hanami, in Japan, and the colourful Holi spring festival in India for instance. This year, spring time stands as an icon for brightness more than ever, as it carries the hope that months spent in lockdown will no longer be part of the future landscape.Taking inspiration from the notion of a brighter time to come, the newest collection of Nordgreen timepieces honours the radiance of spring.
The months spent in isolation have redefined the concept of time and brought us to favour more comfortable and clean silhouettes, natural tones and states of self-reflection which highlight the most essential and truly important elements in our daily lives. That is why we bring our very first Native model under the spotlight with its modest and clean design for a redefined look, introducing Native Lille 28mm and Native mother of pearl dial.
We are thrilled to introduce a new material to the Nordgreen collection - the exquisite mother of pearl. Mother of pearl is a natural material, originating from the ocean and sourced from the shiny inner part of mussel and oyster shells, bringing to light naturally elegant textures. According to popular belief, the insides of shells with their nacre lines resemble a womb in which pearls are born.
In previous centuries, various cultures have put immense importance on the mother of pearl, and in some cases more than the pearls themselves. The fascination with mother of pearl as a form of art, produced by nature itself, dates back to 4000 B.C. and can be found in artefacts from Sumerian tombstones, Ancient Egyptian art, Native American tribal jewelry and beads,  and in serving sets and interiors from the Shang and Ming Dynasties in China. From the 15th century onwards, mother of pearl was frequently put to use in ornamenting the interiors of mosques and royal residences, and up to this day when mother of pearl, with its iridescent linings is widely used in jewelry and watchmaking.
In honour of spring's radiance, the Danish model and influencer Mathilde Gohler, together with Wendy Juel and Mads Nørgaard are the faces of Nordgreen SS21 collection campaign. The tones and visuals are bright, elevating the models' inner shine through natural light, evoking a sensation of the sunset rays reflected on the inner sides of sea shells.
Models: Mathilde Gøhler, Wendy Juel (Le Management ), Mads Nørgaard (Unique)
Photographer: Polina 
Make-up: Isabel Fjelking 
Creative Direction/Styling: Lulu Henckel
Styling assistant: Freja 
Nordgreen team: Esther Günnewig & Maria Madsen