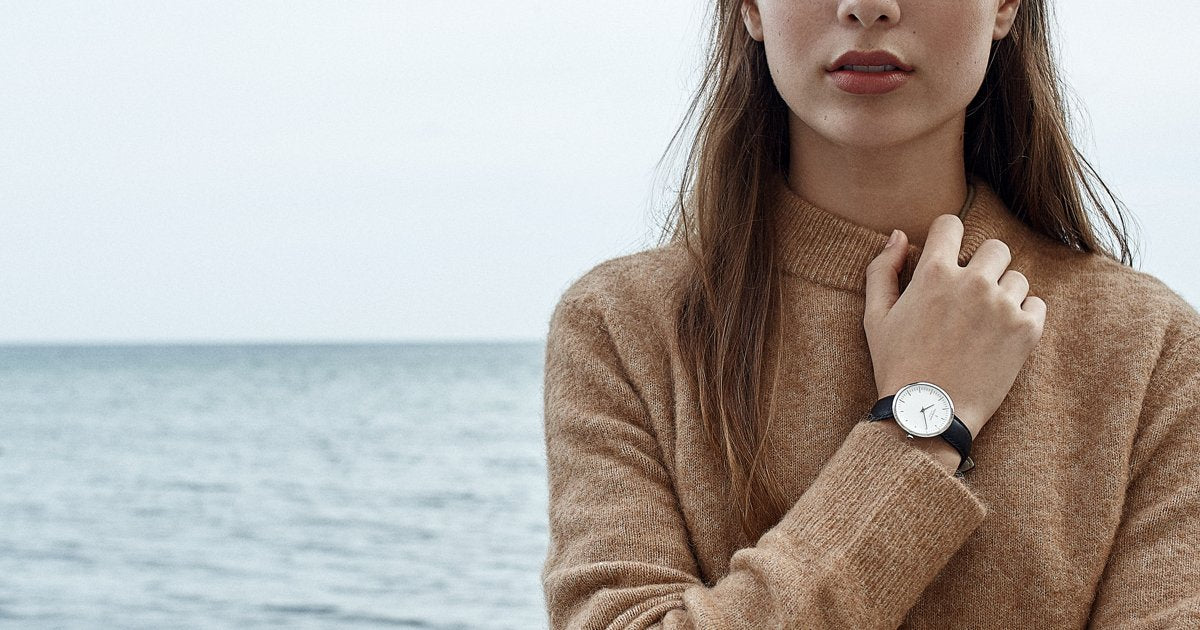 A Behind the Scenes Look at Our New Fall Campaign
One of the most beautiful places in Copenhagen is Møns Klint. Just a short ride away from the city center and places you in a seemingly extraterrestrial landscape, whose sheer cliff faces and stark white walls look like something out of a H.C. Andersen fairytale. The scenery is one of contrasts: the flat, calm, ocean, the jagged, textured cliffs, the plush, dense forests starting to dress in their autumn coats. The beauty of Møns Klint is completely awe-inspiring.
It is unlike anything one would ever expect to find in our little humble country. It's clear why we chose it to be the shooting location of our new fall campaign.    

Møns Klint and the surrounding forests are incredible places to experience autumn in the Copenhagen area.
 
The decision to shoot at Møns Klint went further than just its natural beauty, however. Nordgreen Creative Director Line Otto describes her decision process: "I knew I wanted to shoot there because of how powerful yet understated the setting is. You get a sense of how truly small you are, but also an immediate sense of calm when you're there. Everything is very simple, yet impactful. I feel like in a way, this represents our watches and their design, so I knew this would be the perfect place."
   
Above is a behind-the-scenes look at parts of the shoot. Our models, Ervin and Cecilie, showcased differing styles that complimented the interchangeable strap and dial combinations.

 While we are delighted with the stunning imagery of this campaign, we are also thrilled with how it showcases the versatility of our watches. When designing our watches, we wanted to ensure the freedom of expression and variability with each watch purchased. At Nordgreen, we know that your watch is more than just a timepiece: it's a personal item and a representation of who you are and who you want to be. As such, our interchangeable straps allow you to customize your watch for every mood, outfit, occasion, or season.
 Below, our model Ervin wears our Silver Native model with three of our most popular straps for fall: a Patina Grey Leather strap, Black Leather strap, and Brown Leather strap (L-R). Each strap completely transforms the same watch and lends to a different style and feel.
We also wanted to ensure that this process was a simple one. As a result, all of our watch straps have an easy-release mechanism that makes changing straps effortless. To change the strap on your Nordgreen watch, simply press and release the mechanism on each side of the strap. Changing a strap takes seconds, and doesn't require any additional tools. A video demonstration can be viewed here: 
https://www.youtube.com/watch?v=7UotgmWAHQ0
.  
These five images also demonstrate how quickly and easily a Nordgreen watch can be customized with interchangeable watch straps.
Autumn is a season that embraces change of styles, weather, and of colors - and we are delighted to have captured this through our interchangeable straps in our shoot at Møns Klint. We can't wait to show you what the focus and location of our next campaign will be, and we look forward to sharing more behind-the-scenes glances at our future shoots to come.
Find your perfect accessory for cozy autumn times - Get an additional strap to your watch order with the code 
AUTUMN18
. See the collection here:
nordgreen.co.uk
.