Our Watch Design Philosophy
Our designs represent an aspect of life for us in Denmark. Our collection reflects our ability to adapt to your busy routine and to be as versatile as you need your accessories to be.
"I don't think so much about the product; I think about the person using it, the context. We all have relationships with our products. I see myself as the one that makes sure that relationship is a good one."
Jakob Wagner, Interior Design Magazine, June 18, 2018
Our Watch Designer
For 25 years and counting, Jakob Wagner continues to make his mark on Danish design. His works express his passion for design through aesthetic appeal and practical purpose.
As designer of the Nordgreen watches, Jakob is well-acclaimed for designing collections for major brands such as Bang & Olufsen, Hay, B&B Italia, and Cappellini. He is also a five-time recipient of the IF Product Design Award and Designer of the Year. Nordgreen and Jakob are the recipients of the Red Dot Award in Product Design 2020.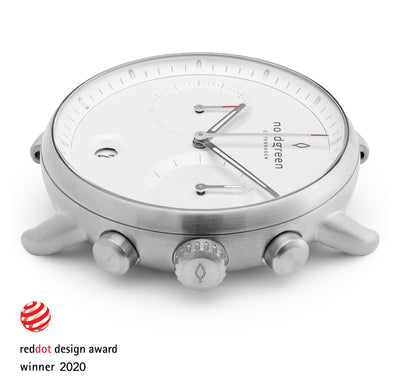 "With a Nordic mindset on design, contemplation comes first. I look for meaning before I design anything. Then I turn to nature for inspiration, searching for the most harmonious expression.
We Want You To Contemplate Our Design
We want you to contemplate how the contour of our timepieces can subtly provoke your thoughts and memories, as it does ours. Our collection is provocative and designed to be Nordic.